Welcome to Geeklog, Anonymous Saturday, September 30 2023 @ 12:17 am EDT
Downloads
File Listing: 763 files

MD5:
b6314b84ef8925f41591432cf14db3e9

Category:
Add-ons

Translations
MD5:
d4a580304d51f94dfdf3ce097b2721d4
MD5:
4eb9731bb0be500096e052d47a9bbadc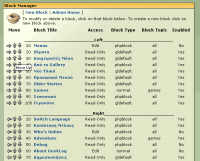 MD5:
cd7ed3d2169526490980c41996c3f357
The core functionality of Geeklog does not give you an easy way to rearrange your blocks around. You have to edit each block and change the order number and wait for the page to reload, only to see that the order number "collides" with another and so on.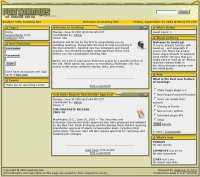 MD5:
744e7106b49de3f1d7d48c1d2f5068e3
CodaX is based off Geeklog's XSilver theme with a green and orange color scheme. It was created by Kenn Osborne. Updated for Geeklog v1.3.8 and v1.3.8-1.