Welcome to Geeklog, Anonymous Thursday, September 28 2023 @ 07:31 pm EDT
Downloads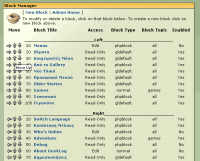 MD5:
cd7ed3d2169526490980c41996c3f357
The core functionality of Geeklog does not give you an easy way to rearrange your blocks around. You have to edit each block and change the order number and wait for the page to reload, only to see that the order number "collides" with another and so on.
The Change Block Order enhancement solves this problem by displaying up and down arrows in the main Blocks display and can let you rearrange the blocks in a more intuitively way.

It will also renumber all the block order numbers that might need reordering.