Welcome to Geeklog Monday, May 23 2022 @ 05:33 pm EDT
Downloads
File Listing: 751 files
Please read the README
Supports Dynamic Menus (Create your own dynamic tabs), Supports HTMLArea, Personalized Menu bar. Spiffy Design.

Category:
Geeklog

Old Versions
MD5:
b1e751c3304c61afad2736e4804182b6
Geeklog 1.4.0sr3 is a security update over 1.4.0sr2.
This is a complete tarball, to be used for fresh installs and upgrades from all pre-1.4.0 releases.
md5 checksum: b1e751c3304c61afad2736e4804182b6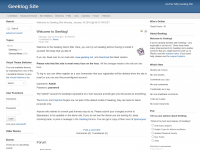 MD5:
9ef33d69a01008b7cf343e525a9fbc4b
Geeklog 2.1.1 is the recommended version for all users of Geeklog. For upgrades please make sure any plugins you are using are compatible with Geeklog 2.1.0 or higher. This is a complete tarball for fresh installs as well as upgrades from any older Geeklog version.

MD5:
7e62fab39fa92e70637302e8a2ea8f96
Geeklog 2.0.0
This is the recommended version for all users of Geeklog. For upgrades please make sure any plugins you are using are compatible with Geeklog 2.0.0. This is a complete tarball for fresh installs as well as upgrades from any older Geeklog version.
md5 checksum: 7e62fab39fa92e70637302e8a2ea8f96

MD5:
0e920fac52ca83243a9463de43e79c4a
Glass theme for GeekLog 1.3.6