Welcome to Geeklog, Anonymous Friday, September 22 2023 @ 06:26 am EDT
Downloads
File Listing: 763 files

MD5:
2c8ccaabbf4c59d8dfda2fdf54fdf733
MD5:
4846ea5f63a21fb8b2bb31cf44f4f5d8

MD5:
8c9c020aa73030ddd9ad1f5761ee1d38
I made to corresponding geeklog1.5.1 it that Chameleon plug-in exhibited in www.gllabs.org
More considered basic accessibility.
And cope to add style pack by Zip file.
--
Chameleon can change to select layout of page , style of menu and block , color , logo ,etc.
And it can to add style pack by yourself.
--
* About to add style pack
At first select style type from add style pack. Next check a manual entry and push the save.
Thirdly upload style by FTP Software to the directory position of a message (it is English, but thinks it whether You understand it because it is PATH) appearing after a save.
By this procedure You can add a style freely.
(From ver2.1.0)Can add a style to appoint a ZIP file.
(From ver2.1.0)Can add custom style of layout too.
--
* How to simple install plug-in by automatic installer.
At first download file (recipe) for an automatic installer from there(
http://hiroron.com/filemgmt/index.php?id=148
).
Next drag a file to the screen which started an automatic installer.
Recipe for Chameleon plug-in :
http://hiroron.com/filemgmt/index.php?id=148
automatic installer(wkyGeeklkogInstaller) :
http://hiroron.com/filemgmt/viewcat.php?cid=3
--
* Install/Usage
Please Look at a bundled INSTALL.

The Topic Chameleon Hack will allow theme changing when accessing different topics, individual stories under a topic, or comments tied to a story. Visitors personal theme choices are overridden anytime they enter the themed topic or its associated stories or comments. The theme reverts back to the system default or user selection when the visitor goes to another section of the site.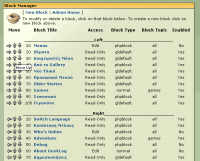 MD5:
cd7ed3d2169526490980c41996c3f357
The core functionality of Geeklog does not give you an easy way to rearrange your blocks around. You have to edit each block and change the order number and wait for the page to reload, only to see that the order number "collides" with another and so on.

MD5:
f004b6fb4ea04038288d44094e2800a9
This Code lets you change the owner of a story, event, comment or link.
Version 1.5 addition: If one of these or the amount of users exceeds 100, there will be an alpabetic filter to narrow down the list and reduce the amount of html on the page.

MD5:
d11495214c07539c7fc767a28221c87d
This static page allows you to change the owner of stories, links, events & comments.
Easy selection from dropdowns. Suggestions & Critics welcome.
Installation: Paste the code 1:1 into a static page, call it "changeowner" and enable it for PHP (return). Make sure only root can access it!

MD5:
234e76b88e14dd88524427ae33c1c639

MD5:
a3c9d1410ed350dc482024caf25b0e00
Chatterblock plugin: Add this to allow your visitors and members to leave messages. Now supports three modes, smilies, Chatterlog and online configuration. Includes Auto-Refresh mode to have the block refresh itself and alert you via a popup if there is a new public or private message.

Category:
Add-ons

Translations
MD5:
a94ceeb0ba69e6e69a85e005910c1fb1