Welcome to Geeklog Tuesday, July 07 2020 @ 09:05 pm EDT
Downloads
File Listing: 749 files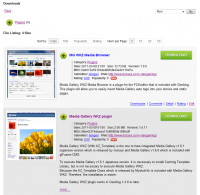 MD5:
912f542a19f850005774ca8bbe94cd19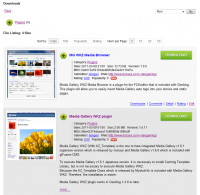 MD5:
10993fb731c5d1ee8d5decb7495e3143
The Downloads Plugin adds a file downloads section to your Geeklog site.
Plugin Requirements:
- Geeklog v2.1.2 or higher
- PHP v5.6.4 or higher (including PHP v7)
- MySQL 4.1 or higher
New Features, Improvements, and Bug Fixes:
- [Security] Improved filtering of URL variables
- [Improvement] Supports PHP v7.0+
- [Improvement] The help file is now directly accessible from the Downloads Admin area
- [Improvement] Now uses the latest comment API (and other improvements) from Geeklog v2.2.1
- [Improvement] Supports multiple template themes
- [Improvement] Removed FCKeditor option since it has been depreciated
- [Bug] Fixed file id issue when cloning download in Admin
- [Bug] This help file is now accessible from the Downloads Admin.
For a complete list of closed issues and features for this version see:
https://github.com/Geeklog-Plugins/do...2?closed=1

MD5:
eec28268446fdce15d994448d2eae67f

MD5:
92e3c020716566a4016096fc52d5f14e
Corrected typo's.
Introduced some new terms (fi portal insteadof site)
Translations added.
File is not completely tested yet.

MD5:
9bbae599b2e67b5d6d744279ea54612a

MD5:
ad45a2774da577c86c6fe13931306b83

MD5:
5deaf9319532aca45bf07b54c764a383

MD5:
858054c15cc1b9303dd46608138a617a
MD5:
cc97dabf73e431d7c26e38b6d8f7b158
Compilation of dutch language files.
Contains dutch.php for Geeklog 1.3.8 (minor updates), filemgmt plugin, forum plugin (version rc2.2), menu plugin (version 1.6) and static pages.
There is a patch for the filemgmt plugin, to find the dutch.php anyway (see functions.inc)

MD5:
7c53f87b4aba9d2d0cbd6737110e2a42
EN: Dutch language pack (dutch.php & dutch_utf-8.php) for Geeklog version 1.4.1.
NL: Nederlands taalpakket (dutch.php & dutch_utf-8.php) voor Geeklog versie 1.4.1.