Welcome to Geeklog, Anonymous Tuesday, October 03 2023 @ 02:21 pm EDT
Downloads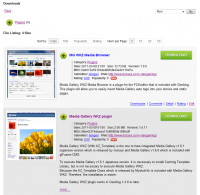 MD5:
4b9b46b4745f2cd6d6488ceec9a8d8a8
Downloads plugin adds downloads section to your Geeklog site.
This plugin is derived from the famous Filemgmt plugin. And, adds various features.
(Ver1.0.4)
* Fixed issue that could not select an access rights group from list.
* Security policy was changed. Now, category management rights are owned by the root users only.

Features:
* Create, edit, and delete downloads file information on admin panel.
* Download file can be classified in multi-level category.
* The description and details of file can be expressed freely using HTML text.
* Like the story you can edit using the Advanced Editor.
* Snapshot thumbnail view.
* Multi-language support.

Terms:
* Downloads plugin works in Geeklog 1.7.0 or later. It doesn't work in older.
* Currently, only MySQL database support.
File List for the Project: downloads