Welcome to Geeklog Sunday, August 25 2019 @ 06:56 pm EDT
Downloads
File Listing: 732 files

MD5:
4aeb3025c706aae97bcac596504e9fbe

MD5:
d3bff74ae74a202f14ab232b662ec4ea

MD5:
09839ade63a56dcf4e871e7c333ad31f

MD5:
915dcaba4a8415eadb8c558083cebb6a

MD5:
ab199947218ce6619f7a492c7cafe43d
Geeklog 1.8.0 contains an updated configuration, OAuth user authentication, jQuery, and includes various other improvements. Please note that Geeklog 1.8.0 now requires at least PHP version 5.2.0 to operate.
This is a complete tarball, to be used for fresh installs and upgrades from all previous releases.
md5 checksum: ab199947218ce6619f7a492c7cafe43d
MD5:
048af13fd1c7264ee5053f4ba3abe404
Geeklog 2.2.0 is the recommended version for all production websites. For upgrades please make sure any plugins you are using are compatible with Geeklog v2.2.0 or higher. This is a complete tarball for fresh installs as well as upgrades from any older Geeklog version.
For more information on the new features and bug fixes in this version, please read this article or the history text file found in the docs directory.

MD5:
cb5a213a12c8def51afbcf89519e049c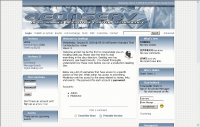 MD5:
fe0b3e300971757593d1d23e4c825752
Here is the most anticipated theme ever created for the Geeklog system. Major thanks goes to the men behind Geeksta.com and Squatty.com. This theme is based on original work of Aeonserv.com and is made for your enjoyment. Please, if you have any comments, compliments or complaints, be the wiser and let me know :)

MD5:
120d44adf4a1242d8d3f0a9d9c4ca5d5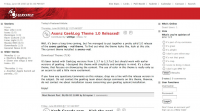 MD5:
1fe2a277a5198be6bb12e4cdd4687854
I designed this theme with simplicity and emphasis in mind. It's a clean theme, that focuses on showcasing the content. The use of color in this theme is really only as an accent to add a little more excitement.