Welcome to Geeklog Tuesday, March 20 2018 @ 03:41 am EDT
Downloads
File Listing: 719 files

MD5:
792041ab356393478dde4dda8cc9d442
First Release Candidate for Geeklog 1.8.0. Please try it out and help us track down any remaining problems.
For fresh installs, you may want to go with the latest stable release (1.7.2) instead until 1.8.0 has been officially released.
md5 checksum: 792041ab356393478dde4dda8cc9d442

MD5:
ce7fd5c9379e49a7315423594ae8e572

MD5:
93cff5a7ef63129aa33c5e7353eae0f4

MD5:
a0763056461861ced424ccf37db3c913

MD5:
afa81b8f1da77b118ff4e6b32b287f0f
Downloads plugin adds downloads section to your Geeklog site.
This plugin is derived from the famous Filemgmt plugin. And, adds various features.

(Ver1.0.3)
* Fixed bug in the category select-box display on multi-language mode.
* Fixed issue errors may occur when creating a category.
* Fixed bug with link to download content from comment page.

MD5:
d3bff74ae74a202f14ab232b662ec4ea
Geeklog 1.7.2 is a bugfix update and the last Geeklog version to support PHP 4.
This is a complete tarball, to be used for fresh installs and upgrades from all previous releases.
md5 checksum: d3bff74ae74a202f14ab232b662ec4ea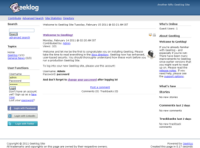 MD5:
683b2a1c4b019b18a4e1fbf5a01ba584
Theme maker for Geeklog 1.8.0 960 px fixed layout
Tableless layout and using CSS 2.0.
Customize: custom.css and images/custom/
Customize sample: custom.sample.css
Read more README

MD5:
234e76b88e14dd88524427ae33c1c639

MD5:
299e6292349a05016c405349e4bd17fb
DokuWiki (2010-11-07 "Anteater") is a standards compliant, simple to use Wiki, mainly aimed at creating documentation of any kind with your Geeklog v1.6.0+. It is targeted at developer teams, workgroups and small companies. It has a simple but powerful syntax which makes sure the datafiles remain readable outside the Wiki and eases the creation of structured texts. All data is stored in plain text files – no database is required.
--
DokuWiki has the following system requirements:
* PHP 5.1.2 and higher.
* This integration is based on Geeklog v1.6.0 and do not work with older versions.
--
Included security release january 16th 2011