Welcome to Geeklog Friday, March 22 2019 @ 06:01 am EDT
Downloads
File Listing: 732 files

MD5:
e732d9b3c9949d2dd9e45a295434d854

Category:
Geeklog

Old Versions
MD5:
0bf7b95d3eefa41da9116995440bf7cb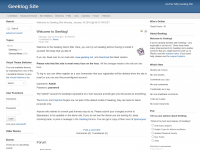 MD5:
9ef33d69a01008b7cf343e525a9fbc4b
Geeklog 2.1.1 is the recommended version for all users of Geeklog. For upgrades please make sure any plugins you are using are compatible with Geeklog 2.1.0 or higher. This is a complete tarball for fresh installs as well as upgrades from any older Geeklog version.

MD5:
1dd7b72567daa12f18f188f8451c6ae8
Geeklog 2.1.0
This is the recommended version for all users of Geeklog. For upgrades please make sure any plugins you are using are compatible with Geeklog 2.1.0. This is a complete tarball for fresh installs as well as upgrades from any older Geeklog version.
md5 checksum: 1dd7b72567daa12f18f188f8451c6ae8

MD5:
24ccc63a1f79038b61dbe7b10a7afa22