Welcome to Geeklog Tuesday, September 17 2019 @ 04:20 am EDT
Downloads
File Listing: 732 files

Category:
Geeklog

Old Versions
MD5:
b1e751c3304c61afad2736e4804182b6

MD5:
7e62fab39fa92e70637302e8a2ea8f96
Geeklog 2.0.0
This is the recommended version for all users of Geeklog. For upgrades please make sure any plugins you are using are compatible with Geeklog 2.0.0. This is a complete tarball for fresh installs as well as upgrades from any older Geeklog version.
md5 checksum: 7e62fab39fa92e70637302e8a2ea8f96

MD5:
0e920fac52ca83243a9463de43e79c4a
Glass theme for GeekLog 1.3.6

MD5:
17c722d11dd130d0e53fabdac139f2e6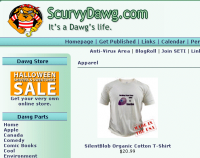 MD5:
4f83d082bc51f10c2558b0a49fb7423d
I designed this theme with simplicity and emphasis in mind. It's a clean theme, that focuses on showcasing the content. The use of color in this theme is really only as an accent to add a little more excitement.