Welcome to Geeklog, Anonymous Wednesday, August 10 2022 @ 10:36 am EDT
Downloads
File Listing: 163 files

MD5:
d3bff74ae74a202f14ab232b662ec4ea

MD5:
ffc5ae5b8b956040846a70ed376608f0

MD5:
885c75eb2365f0bc650826ab8202439f

MD5:
04fc57b10a747ea8acfa36c965870fe9
First Release Candidate for Geeklog 2.0.0. Please try it out and help us track down any remaining problems.
For fresh installs, you may want to go with the latest stable release (1.8.1) instead until 2.0.0 has been officially released.
md5 checksum: 04fc57b10a747ea8acfa36c965870fe9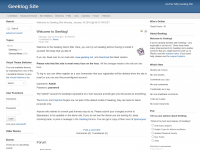 MD5:
9ef33d69a01008b7cf343e525a9fbc4b
Geeklog 2.1.1 is the recommended version for all users of Geeklog. For upgrades please make sure any plugins you are using are compatible with Geeklog 2.1.0 or higher. This is a complete tarball for fresh installs as well as upgrades from any older Geeklog version.