Welcome to Geeklog Thursday, October 21 2021 @ 01:50 am EDT
Downloads
File Listing: 486 files

MD5:
a2b3f94eccf99c4d7fac33b5721af8d3
This plugin collects statistics on who visits your site, what browser and operating system they are using, which pages they view, and which links they are clicking to get there. It allows the administrator to browse these stats through a series of tables, getting right down into the data.

MD5:
563d5793d7aa1364aad224ef6233f1ee
An updated version of Tom Willet's Nettools plugin that provides the Whois, NSLookup, Ping, and Traceroute networking tools.
This version provides fixes to the Whois lookup, courtesy of the PHPWhois open source project.
md5 checksum: 563d5793d7aa1364aad224ef6233f1ee

MD5:
5f80d267172cfe1bb22a121f69010536
This block allows you to create an Affiliates block. Many CMS solutions such as InVision Power Board, provide an affiliates section to allow site operators to form rings of content providers with similiar interests. It's a form of advertising to generate more hits, and provide visitors with access to like minded sites.

MD5:
a3c9d1410ed350dc482024caf25b0e00
Chatterblock plugin: Add this to allow your visitors and members to leave messages. Now supports three modes, smilies, Chatterlog and online configuration. Includes Auto-Refresh mode to have the block refresh itself and alert you via a popup if there is a new public or private message.
This is, hopefully, the last RC.
Included bug fixes and suggestions from true believers ;-)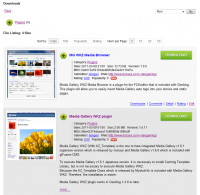 MD5:
4b9b46b4745f2cd6d6488ceec9a8d8a8


MD5:
456cb260e6a0354ffdfb7cb6e9b86f6f
Provides additional feed writer classes for geeklog 1.3.9 and above's content syndication system. Includes RDF (RSS 1.0), RSS 2.0, ATOM and now Avantgo. Also includes code for a static page to display available feeds.

MD5:
8f8d3dd714ef33829d0d2c2b31cedb5d
FEATURES:
Order entry:
- Unlimited number of Products
- One Tax calculation
- One currency only
- Unlimited Shipping zones with individual shipping costs
- Free shipping above assigned purchase value
- Flexible central Number formatting
Payment:
- Paypal with seperate shipping costs
- Money transfer
- Tax (VAT) value calculated
- Confirmation email to Admin & customer
- Email validity Check
Instructions:
Please read the through all the text below.
In the beginnging there are several variables you have to adjust to make this
work. Also, there is a line in the end that you have to remove.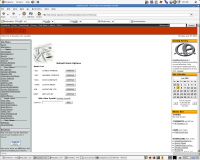 MD5:
01c4d34e2c7e316522ebe9c8c5c21e75