Welcome to Geeklog, Anonymous Sunday, May 28 2023 @ 03:14 am EDT
Downloads
File Listing: 191 files

MD5:
a2b3f94eccf99c4d7fac33b5721af8d3
This plugin collects statistics on who visits your site, what browser and operating system they are using, which pages they view, and which links they are clicking to get there. It allows the administrator to browse these stats through a series of tables, getting right down into the data.

MD5:
68c06e997733984cc421a592b75bb5ed

MD5:
57eeaa591b1a5626aefd2fc559c85dda
This is a wonderful little script that allows you to create a store at CafePress.com and have it displayed within your GeekLog installation with ease.

MD5:
563d5793d7aa1364aad224ef6233f1ee
An updated version of Tom Willet's Nettools plugin that provides the Whois, NSLookup, Ping, and Traceroute networking tools.
This version provides fixes to the Whois lookup, courtesy of the PHPWhois open source project.
md5 checksum: 563d5793d7aa1364aad224ef6233f1ee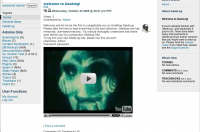 MD5:
306ef3e6a8d97490daade8621200a35d
This plugin just adds a YouTube autotag to your 1.4 or higher geeklog sites. example of use: [youtube:youryoutubefileid]