Welcome to Geeklog, Anonymous Saturday, December 02 2023 @ 10:51 am EST
Downloads
File Listing: 191 files

MD5:
ac89ed18309acb199179820063eef631

MD5:
68c06e997733984cc421a592b75bb5ed

MD5:
563d5793d7aa1364aad224ef6233f1ee
An updated version of Tom Willet's Nettools plugin that provides the Whois, NSLookup, Ping, and Traceroute networking tools.
This version provides fixes to the Whois lookup, courtesy of the PHPWhois open source project.
md5 checksum: 563d5793d7aa1364aad224ef6233f1ee

MD5:
57eeaa591b1a5626aefd2fc559c85dda
This is a wonderful little script that allows you to create a store at CafePress.com and have it displayed within your GeekLog installation with ease.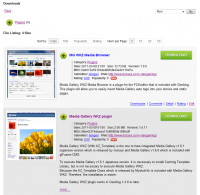 MD5:
4b9b46b4745f2cd6d6488ceec9a8d8a8