Welcome to Geeklog, Anonymous Friday, December 01 2023 @ 04:28 am EST
Downloads
File Listing: 191 files

MD5:
68e3da4440bc2d61cb1c6e977ce14ac5
This release addresses a couple of IE compatablility issues.
This is the DailyQuote plugin for GL 1.3.9/10/11. It's most basic function displays a random quote in a PHP block or a center block. It is configurable to deliver much more functionality than simply displaying a random quote, e.g.: quotes may be cached; quotes may be searched and displayed; quote submissions may be moderated; permissions are configurable; and more. New to this version is a backup/restore function.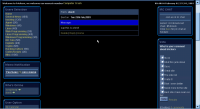 MD5:
9e84c6c51fb240dd463bd455255370e0
this is a great memo system for gl .. it works great
this is good for users who has not gottom the gl_forum or/and would love to talk insecret to others or send fast notifications

This is another release for my staticpages plugin hack. This version corrects a problem that some users experienced, in which backslahes were being appened to their code. This version appears to work for all users, however, please make sure you backup your code before using it. Extra slashes in existing pages will not be altered, but any new pages/modifications should work properly. Additionally, the plugin config file has beeen altered to show the proper version.

MD5:
7ab1fa03301642382175a621adb9d9ab
A plugin for managing things to do. Items (TTDs) are topic dependant, and fully respect the Geeklog security model. TTDs are shown in a centerblock if desired, either on the homepage and in topics, or in topics alone.

MD5:
6f57dec06a3760ec36a2dd87755f4b31
The Geeklog Usage Stats [GUS] plugin collects statistics on who visits your site, what browser and operating system they are using, which pages they view, and which links they are clicking to get there. The minimum Geeklog version required is now v2.1.0.