Welcome to Geeklog Wednesday, September 19 2018 @ 07:02 am EDT
Downloads
File Listing: 100 files
MD5:
4afbd0fee4e05c9a06e3037dde53a6bd
XNature is a modification of the default XSilver theme, based on the popular Glass theme. Note that the images in the snapshot are different from the ones contained in the distro. Enjoy!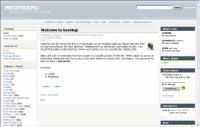 MD5:
31e3419920292267ea3b36dc97b045b9
MD5:
7e05cea141560521c1a0154854f000f6

The !White Pointer theme has been updated for use with Geeklog 1.4.0
The updates were very basic. Mostly, the changes found at
http://www.geeklog.net/docs/theme.html#changes
were applied to Version 1.3.9 (originally uploaded on March 17, 2004) by copying the updates files from the Professional theme. The "forum" folder was removed, and the height of the "tube" images (container-left-tube-bg.png, container-right-tube-bg.png, storybox-left-tube-bg.png and storybox-right-tube-bg.png) have been extended to 300 px so they won't repeat for longer stories and blocks
Please read the README
Supports Dynamic Menus (Create your own dynamic tabs), Supports HTMLArea, Personalized Menu bar. Spiffy Design.