Welcome to Geeklog, Anonymous Friday, December 01 2023 @ 05:50 pm EST
Downloads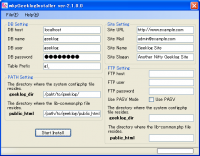 MD5:
cc3ce25862217518f42ebc05024b7261
Super simple software that installs Geeklog extremely easily.
Do you think it's difficult or complicated to install Geeklog?
Now you have this system and don't you worry abou that.
What you need is just one click to do all the tedious job.
Moreover it corresponds to not only the main body of Geeklog but also the plug-in and the installation of the theme.