Welcome to Geeklog, Anonymous Tuesday, June 06 2023 @ 11:14 pm EDT
Downloads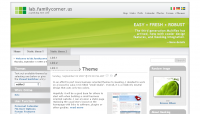 MD5:
4ec8eb51028672d3d7957f52c0726f23
There are a lot of options that you can browse in the "multiflex3/multiflex32_original" folder that take advantage of different block colors and other effects. I included all of the original CSS so you should be able to plug-n-play new class properties in the .thtml files if you so desire. Also, I included a collection of country flags for use in the top header. They are public domain and can be found in "multiflex3/flag_icons.zip" To use them, simply unzip the ones you want and upload them to "multiflex3/images" folder.

Finally, this theme supports the Forum plugin v2.7, with its layout options in "multiflex3/functions.php" with some navbar layout enhancements that didn't make it into Blaine's final 2.7 release, but which will be incorporated in future updates.

I have tested it in Firefox2, IE 7, Safari public beta 3, and Opera. In other browsers, your mileage may vary.