Welcome to Geeklog, Anonymous Wednesday, November 29 2023 @ 12:30 am EST
Downloads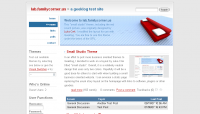 MD5:
93d2cf95fac72b70d8633c7dbf1c6a7d
Small Studio is a layout originally created by Luka Cvrk (luka@solucija.com). I had to redesign the blocks so that it will take advantage of Geeklog's ability to dynamically hide either/both columns. I also changed the menu hover images a little bit.
Overall, it is a relatively neutral design that uses only two colors. Hopefully it will be a good base for others to start with when building a small business oriented website. I can envision a static page replacing the usual story layout on the homepage with links to software, plugins or other goodies.

I have tested it in Firefox2, IE 7, Safari public beta 3, and Opera. In other browsers, your mileage may vary.