Welcome to Geeklog, Anonymous Wednesday, October 04 2023 @ 10:56 am EDT
Downloads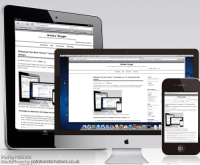 MD5:
05ef246dd1cffabedc159aac6feb2a5d
Release the theme "newspaper_en" of accessible and responsive Web design for the first time in Geeklog.
This theme is the English version of the Responsive Web design "newspaper for 1.8.1" for Geeklog.

I created a theme for Responsive WEB design based on the "WAIproCSS Ver2.5.1 for Geeklog1.8.1".
This theme is PC is 2 column, iPad&iPod touch is center block 1 column&left&right block 2 column Layout.


This theme, and incorporates a "progressive enhancement(Information correctly while providing a wide range of environmental conditions,
High performance in a browser on the Web design concept that attempts to provide a rich experience.)" using the CSS3.
So In browsers that do not support CSS3 is an icon that is displayed before the link Will feel that it is not displayed,
but, the information has been prepared properly so as to obtain.

IE8 below do not support Media Queries, who want to support, please add a script such as "css3-mediaqueries-js".

The site logo fonts are displayed using the Google Font API.

Theme"newspaper_en" is considering the accessibility in the same way "WAIproCSS ".

License of the new theme "newspaper_en", license in accordance with the WAIproCSS.
For more information, please see the README "WAIproCSS" folder located in the newspaper_en.