Welcome to Geeklog, Anonymous Saturday, December 09 2023 @ 11:33 pm EST
Downloads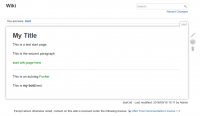 MD5:
1345daa0bb4fc13510f117c73154dfab
DokuWiki is a standards compliant, simple to use Wiki, mainly aimed at creating documentation of any kind. It is targeted at developer teams, workgroups and small companies. It has a simple but powerful syntax which makes sure the datafiles remain readable outside the Wiki and eases the creation of structured texts. All data is stored in plain text files – no database is required.
The DokuWiki Integration Plugin for Geeklog provides an integration with your Geeklog v2.1.1+ website. This plugin is based on DokuWiki 2016-06-26a "Elenor of Tsort", " which is the latest release at the time of this writing.
DokuWiki requires that your Geeklog site use UTF-8 encoding. If your site is not configured for UTF-8 encoding, do not install this plugin.
DokuWiki has the following system requirements:
PHP 5.3.3 and higher
PHP's GD extension for use with libGD 2 (a graphics library) is recommended but not needed
DokuWiki should work in PHP's Safe Mode, depending on your hosts configuration you may need to use the safemodehack option
DokuWiki is designed to run with PHP's Option register_globals set to off
Please read the included "ReadMe.md" for install and upgrade instructions to ensure you have the correct directories and files writable for the web server and that you have renamed the 2 .dist config files.
If you find any bugs please add them to the DokuWiki plugin issue tracker.
File List for the Project: DokuWiki