Welcome to Geeklog, Anonymous Friday, August 19 2022 @ 05:00 am EDT
Downloads
File Listing: 751 files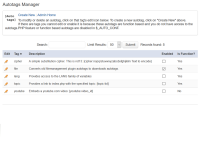 MD5:
091818c0205dc14c6ed889c5fb1d2c6b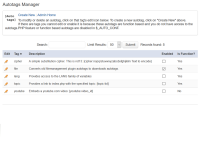 MD5:
d530e05726dc11e2f35c7423d12cb292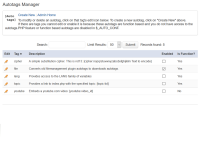 MD5:
e87233969b98e011f8883e9022441852
The Autotags plugin allows you to create autotags from the Geeklog admin interface.
Plugin Requirements:
- Geeklog v2.2.1sr1 or higher
- PHP v5.6.4 or higher (including PHP v7)
- MySQL 4.1 or higher
New Features, Improvements, and Bug Fixes:
- [Info] Requires Geeklog v2.2.1sr1
- [Improvement] Supports PHP v7.3
- [Improvement] Success message on save of autotag.
- [Feature] Replace with PHP autotags supports extended functionality of PLG_replaceTags (autotag will know calling plugin and id of item that the autotag is embedded)
- [Feature] If autotag supports PHP it will be parsed for errors on save (for PHP v7.0.0+ only). If autotag is used that has PHP parse errors it will try to error gracefully
- [Bug] Fixed undeclared PHP variable errors
- [Bug] Fixed SQL error on save when an invalid Autotag ID happens
For a complete list of closed issues and features for this version see:
https://github.com/Geeklog-Plugins/au...4?closed=1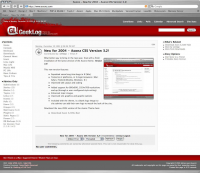 MD5:
6fe256bd0916cd675c809bbf3df67ade
Updated for 2004! - Almost completely re-coded from the ground up, this new version features nearly all CSS rendered pages and WC3 HTML 4.01 transitional compliance. Originally designed with simplicity in mind, version 3.2 adds better text rendering and all new images, without compromising it's roots as a clean theme focusing on showcasing your content.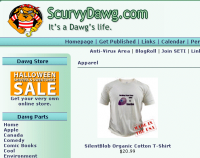 MD5:
4f83d082bc51f10c2558b0a49fb7423d
I designed this theme with simplicity and emphasis in mind. It's a clean theme, that focuses on showcasing the content. The use of color in this theme is really only as an accent to add a little more excitement.