Welcome to Geeklog, Anonymous Friday, September 22 2023 @ 07:13 am EDT
Downloads
File Listing: 763 files

This is a hack to the calendar system which allows an event admin to choose groups, and have different calendar views to show events related to that group. It's almost like having multiple calendars, but it's not! This only works on the master calendar, not on the personal calendars.

MD5:
2cab81f7cdcaf624803294c6f42d6980

I'm planning on using Geeklog inside a corporate environment. To satisfy our security requirements, we will be using SSL for all access. On top of this, we need strong authentication (more than just username/password and cookies). Therefore, we've decided to use SSL client certificates. After looking through the Geeklog code, one of my collegues and I found that it was pretty easy to add SSL client certificate authentication to Geeklog.

MD5:
4c23737d156033318f07c066e973a1f3

MD5:
7eacd6bce16d5cff6546eff5b7a5f9f8

MD5:
a9023c1e63cdd0ca24f688b207f56b7b


MD5:
077fcd9b974582562ab928cf503b64a7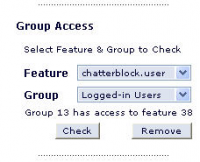 MD5:
cc195acf1213a12b84ea6b1afefff1c0

MD5:
79e8c432983e41beb3a2346a2801b3bd