Welcome to Geeklog Tuesday, October 23 2018 @ 03:05 am EDT
Downloads
File Listing: 732 files
MD5:
7e05cea141560521c1a0154854f000f6

MD5:
9f1cb6476351ea845a5c63acb7bcd931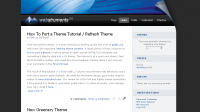 MD5:
2ce3cf21109da0d6baaa438bafa50729
Webstruments is a layout originally created by Karl Golka at
http://webstruments.com
With his permission, I created a fixed width with a right block port of the original, and adapted the layout to create a fixed width left block version, as well as a fluid version with both block columns.

MD5:
fb64529c7409b11914475320e240e081

MD5:
4fb2088c9c2e5a7fcf7a720aaf16abe8
This hack allows for quick lookup of IP addresses detected by the wonderful Bad Behavior plugin. The ARIN, APNIC, LACNIC and RIPE whois lookup URLs are encoded into the display for each log item line along with a convenient lookup of the entire IPV4 address space.