Welcome to Geeklog, Anonymous Friday, December 01 2023 @ 05:04 am EST
Downloads
File Listing: 763 files

MD5:
319c08df343f3eecd65cd7024ee46641

MD5:
8431c15c540da80cd8b168d871feb0a3

MD5:
0798ff9d0e5d8017a1bf69d20eb68da2

MD5:
0a2c9c9bca45c73c190854f258c7b163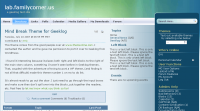 MD5:
e641553139a89cbf8781d62bdd361ffc
Mind Break is a fixed width, 3 column layout theme I ported with permission from its author at
http://www.theme-time.com
. I found it interesting because it places both left and right blocks to the right of the main story column. It is meant for 1024x768 and higher screen resolutions. Please see the enclosed README file for more info.