Welcome to Geeklog, Anonymous Thursday, September 28 2023 @ 04:07 am EDT
Downloads
File Listing: 763 files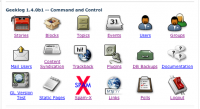 MD5:
75314f6bdcba90363c3787a520cb2b4b
Geeklog 1.4 comes with a new set of icons for "Command and Control" (admin/moderation.php). In the Professional theme, these icons are in PNG format with a white background. This archive contains the original PNG icons, most of which use alpha transparency. Theme authors can use these to create icons that better match their themes.

Category:
Add-ons

Translations
MD5:
05a28f8b6140637012790ca440b7b3c8

Category:
Add-ons

Translations
MD5:
b8e1fe192a76e9a1987ccbc70740e3f5
This archive contains a more complete version of Geeklog Ukrainian translation than that of lokki; in fact, it was done half a year ago, shame on me I forgot to upload it. I think that coming to next version, efforts of us both have to be merged to produce the best result.

Category:
Geeklog

Old Versions
MD5:
0bf7b95d3eefa41da9116995440bf7cb

Category:
Geeklog

Old Versions
MD5:
43d2e584670a7e018b968651a7ac237b