Welcome to Geeklog, Anonymous Wednesday, November 29 2023 @ 04:32 am EST
Downloads
File Listing: 763 files

Category:
Geeklog

Old Versions
MD5:
5336da40b30b05179f7af83e564262be

Static page php code to display Picasa generated web gallery folders as a portal to those web gallery pages. The static page lists the web gallery folders available, displays a random photo from the gallery, and the name of the folder of the gallery as links to those galleries.
You must use Picasa to generate the webgalleries.

MD5:
6fa87717bb5b97727dc84bd1dc2c6610
This contains ONLY the files needed to upgrade from Geeklog 1.3.11sr1. For fresh installs and upgrades from earlier versions, please download Geeklog 1.3.11sr2 instead.
md5 checksum: 6fa87717bb5b97727dc84bd1dc2c6610

Category:
Geeklog

Old Versions
MD5:
dec2f18b25b376cde90f6d4cc336e307
Geeklog 1.3.11sr2 is a security and bugfix update over 1.3.11sr1.
This is a complete tarball, to be used for fresh installs.
md5 checksum: dec2f18b25b376cde90f6d4cc336e307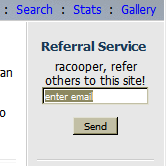 MD5:
ffba614d146b77e14daf20ee77d39c04