Welcome to Geeklog, Anonymous Friday, September 29 2023 @ 12:45 am EDT
Downloads
File Listing: 763 files

Category:
Add-ons

Translations
MD5:
c04c2f9a396ab76aa677df493717e918
Translated from language file in version 0.7.1 of the easyfile plugin.

Category:
Add-ons

Translations
MD5:
cc4ae60d3d8e4d078e368e994ea3ea45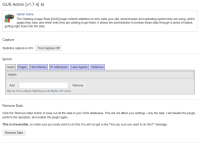 MD5:
8e8165ea289e012299b946be3eb00814
The Geeklog Usage Stats [GUS] plugin collects statistics on who visits your site, what browser and operating system they are using, which pages they view, and which links they are clicking to get there.
Plugin Requirements:
- Geeklog v2.1.0 or higher
- PHP v5.6.4 or higher (including PHP v8.1)
- MySQL 4.1 or higher
New Features, Improvements, and Bug Fixes:
- [Improvement] Updated BrowserDetection Class to v2.9.6
- [Feature] Support for PHP v8 and v8.1
For a complete list of closed issues and features for this version see:
https://github.com/Geeklog-Plugins/gu...6?closed=1

MD5:
9f4cfa9d83e28f3534fae727d8dbfc38
This contains only the files needed to upgrade from Geeklog v2.2.1sr1 to 2.2.2. For fresh installs and upgrades from earlier versions, please download the complete current Geeklog tarball instead.

Remember you will still have to manually remove any files that are not used anymore by Geeklog v2.2.2. For the list of removed files from Geeklog 2.2.1sr1 please see the text file included in this package (found here \public_html\docs\removed-files).
MD5:
b930bb823df4da2669840c9b045dcbe1
This Geeklog plugin provides Private Messaging Functionality for your site members. New messages are received into your inbox and users are sent a email notification to alert them unless they have disabled the user preference. Site Administrators can also send out a broadcast message using the plugin.
Plugin Requirements:
- Geeklog v2.2.1 or higher
- PHP v5.6.4 or higher (including PHP v8.1)
- MySQL 4.1 or higher
New Features, Improvements, and Bug Fixes:
- [Improvement] Now supports PHP 8.1
For a complete list of closed issues and features for this version see:
https://github.com/Geeklog-Plugins/me...3?closed=1