Welcome to Geeklog Friday, October 22 2021 @ 03:32 pm EDT
Downloads
File Listing: 749 files

Category:
Geeklog

Old Versions
MD5:
f19c9370c9e148b462b7b61e43566c19
This is the first beta release of Geeklog 2.1.2. Please try it out on a non-production website and give us your feedback.
For more information on the new features and bug fixes in this version please read the history text file found in the docs directory.
For live sites the recommended Geeklog version is 2.1.1.
If you find any bugs in this release, please report them here.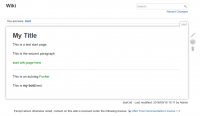 MD5:
1345daa0bb4fc13510f117c73154dfab
DokuWiki is a standards compliant, simple to use Wiki, mainly aimed at creating documentation of any kind. It is targeted at developer teams, workgroups and small companies. It has a simple but powerful syntax which makes sure the datafiles remain readable outside the Wiki and eases the creation of structured texts. All data is stored in plain text files – no database is required.

MD5:
2f6b19bc27ba487316a925635b0900f6
Yet another CAPTCHA implementation for Geeklog-1.6.0 or newer. This plugin uses Google reCAPTCHA service and protects your site from SPAM bots. IMPORTANT: PHP-5.3.2 or newer required.
[v1.1.0]
Upgraded to Google reCAPTCHA v2.
Added an error code to a log file(logs/recaptch.log) entry. Patch provided by Tom.
[v1.1.2]
Upgraded to reCAPTCHA PHP library v1.1.2.
Modified to use cURL if possible.
MD5:
a85bbacd3281fd1aaaa42bde90beaadf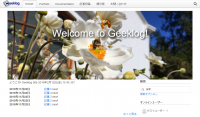 MD5:
01c42438e785400d037f7e13f1e0e8c1
The most simple theme using UIkit based on Denim.
requre no hack.
including all of core plugins using UIkit.