Welcome to Geeklog, Anonymous Sunday, December 04 2022 @ 03:06 am EST
Downloads
File Listing: 498 files
MD5:
46ccb93e3ddc589062164bfb36a58eb6
The Geeklog Menu Plugin allows you to create menus for header, footer, blocks or any element with autotag [menu]. You can also to easily customize the look and feel of your menus by adjusting the values of each colors or choose images for background.

The Menu Plugin version 1.1+ works on Geeeklog 1.8.0+ (including v2.2.0).

Please check the install.html file included for install, upgrade and use instructions.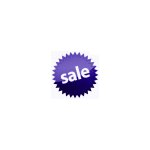 MD5:
d045febde5b88ac36d58a9b9c8b6ccad
Put Classifieds Ads on your site in minutes. See demo page
Classifieds plugin allows your site members to publish ads on your site. They can add pictures if necessary, modify and delete their ads at any time. Ads are online during a period that you can set. You can create as many headings and sub headings as necessary.
Version 1.3.2 | Jan. 22th, 2016
[new] Move proversion files to data/classifieds_data folder to avoid delete during auto update
[new] Warning message for no group with publish right or group list with publish right.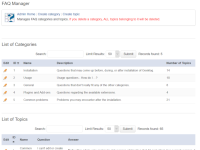 MD5:
53261798c49f642dccbc0a806d296dfb
MD5:
bb972ff600a79f4f88fbbee7011701db
The NetTools Plugin provides networking tools built into Geeklog for Whois, NSLookup, Ping, and Traceroute.
Plugin Requirements:
- Geeklog v2.2.0 or higher
- PHP v5.6.4 or higher (including PHP v7)
This version provides fixes to allow the plugin to work with PHP v7.0+ along with a few other enhancements.
For a complete list of closed issues and features for this version see:
https://github.com/Geeklog-Plugins/ne...1?closed=1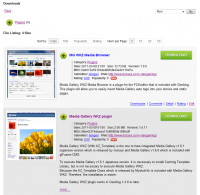 MD5:
10993fb731c5d1ee8d5decb7495e3143
The Downloads Plugin adds a file downloads section to your Geeklog site.
Plugin Requirements:
- Geeklog v2.1.2 or higher
- PHP v5.6.4 or higher (including PHP v7)
- MySQL 4.1 or higher
New Features, Improvements, and Bug Fixes:
- [Security] Improved filtering of URL variables
- [Improvement] Supports PHP v7.0+
- [Improvement] The help file is now directly accessible from the Downloads Admin area
- [Improvement] Now uses the latest comment API (and other improvements) from Geeklog v2.2.1
- [Improvement] Supports multiple template themes
- [Improvement] Removed FCKeditor option since it has been depreciated
- [Bug] Fixed file id issue when cloning download in Admin
- [Bug] This help file is now accessible from the Downloads Admin.
For a complete list of closed issues and features for this version see:
https://github.com/Geeklog-Plugins/do...2?closed=1