Welcome to Geeklog, Anonymous Monday, March 20 2023 @ 09:23 pm EDT
Downloads
File Listing: 498 files

Static page php code to display Picasa generated web gallery folders as a portal to those web gallery pages. The static page lists the web gallery folders available, displays a random photo from the gallery, and the name of the folder of the gallery as links to those galleries.
You must use Picasa to generate the webgalleries.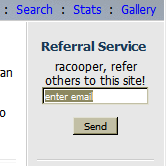 MD5:
ffba614d146b77e14daf20ee77d39c04

MD5:
05a28f8b6140637012790ca440b7b3c8

MD5:
b8e1fe192a76e9a1987ccbc70740e3f5
This archive contains a more complete version of Geeklog Ukrainian translation than that of lokki; in fact, it was done half a year ago, shame on me I forgot to upload it. I think that coming to next version, efforts of us both have to be merged to produce the best result.

MD5:
ac89ed18309acb199179820063eef631

MD5:
934d5f2add2a1c12e2dd429f0317606d

MD5:
ee3b60865e24783d4717780d62200306
This plugin provides RSS feeds of your article comments. Exactly like the feeds of articles that Core Geeklog provides, but of the comments.

MD5:
304b97efe2ee094aaf17abd423b0698e
//Spanish translation for filemgmt_1.5.2_1.4
//Traducci�n al espa�ol para el plugin filemgmt_1.5.2_1.4

MD5:
2f127494ff77bde4769a729581b39358
This is a multilingual installer for Geeklog-1.4.1b2. English and Japanese language files are included.
USAGE: Uncompress the archive file into your admin/install directory and run
http://yoursite/admin/install/install.php
.

MD5:
06a7afbbd2b0470121127e247fcd61fd
This is a bug-fixed version of Google Sitemap Generator. The users of the older versions should update to ver 0.1.3.