Welcome to Geeklog, Anonymous Sunday, June 26 2022 @ 06:48 am EDT
Downloads
File Listing: 181 files

MD5:
3cd9ac9ad03b91c29919f0186df77986
A simple blog plugin. Sometimes users find the stories a little complicated to use. This plugin provides a simpler version without topics or introductions, and only the advanced editor. Comments are supported.

MD5:
57eeaa591b1a5626aefd2fc559c85dda
This is a wonderful little script that allows you to create a store at CafePress.com and have it displayed within your GeekLog installation with ease.
MD5:
f8126f423d39a5fa260c7d6e53de150d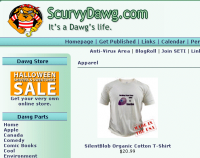 MD5:
60c96f21f2efa799a64d63debb44f7c8

MD5:
b685e3ec390923e8acc0ac2a08affa1a