Welcome to Geeklog, Anonymous Friday, December 01 2023 @ 05:48 am EST
Downloads
File Listing: 191 files

MD5:
0938a6cfc825f76d3a8889ab1c5b2528
This is a repackaged version of Blaine's FAQ Manager plugin, containing an updated functions.inc (adds support for autotags, among other things), a rewritten index.php, and a German translation.

MD5:
47855d805f06db19a221ceed08b72223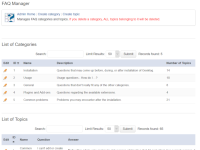 MD5:
53261798c49f642dccbc0a806d296dfb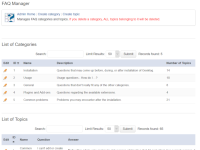 MD5:
dee704c5eaa3499f68a7c3534fd10241
The Geeklog FAQ Manager Plugin is for managing Frequently Asked Questions. This plugin is currently being used by Geeklog.net.
It is based on the FAQMan from Stephen Ball.
Plugin Requirements:
- Geeklog v2.1.3 or higher
- PHP v5.6.4 or higher (including PHP v8.1)
- MySQL 4.1 or higher
New Features, Improvements, and Bug Fixes:
- [Improvement] This version uses the newer Geeklog search API.
- [Bug] Fixed an issue in the language files which caused an issue in PHP 8.0.
For a complete list of closed issues and features for this version see:
https://github.com/Geeklog-Plugins/fa...5?closed=1

MD5:
0f5994fc5c8fedafa881f340b447a055
** Beta Release for Testing **
Geeklog Plugin for managing Frequently Asked Questions. Based on the FAQMan from Stephen Ball. Plugin now provides Geeklog integrated install, de-install, admin, security, search and modified templates.