Welcome to Geeklog Tuesday, March 20 2018 @ 03:49 am EDT
Downloads
File Listing: 157 files

MD5:
87650c4bb6d88d97aa59f0b70168c6e8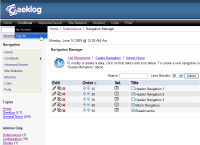 MD5:
e9e458aba9f472f6652e43731f892bdc

MD5:
c2e5851b29439f3b9dcfc568e2819911
This is a plugin that manages GoogleAnalytics at Geeklog. You just put GA's trucking ID at GoogleAanlytics plugin manager and the manager insert the analysis codes into a footer of Geeklog pages. What's unique is to provide extension for mobile access which GoogleAnalytics ignores. For mobile access, Google JavaScript code does not be used. Instead, the plugin provides mobile access information to Google with its own. Meanwhile, for separate management of the mobile access analysis, an option to put another trucking ID for mobile is available.
--
* How to install
GoogleAnalyticsPluginDocument(
http://hiroron.com/dokuwiki/doku.php?...eanalytics
) or README file.
--
2009/06/29 ver1.0.0 release

MD5:
7cce29b12ad76a5a04b9d7c57ac18fd1

MD5:
73116e053a18f560baac3e540533b2fe
This plugin allows you to put "keywords" and "description" meta tags in articles and staticpages.
--
(v1.0.2)
Fixed to properly respect default keywords and description settings.
(v1.0.3)
Added an option to choose whether to execute PHP code in statispages.

MD5:
6141d98795660b12e39f159171c892c4
Autosave plugin allows you to automatically save an article or a static page you are editing at a given interval.
This plugin is only for Geeklog-1.5.x and you have to enable JavaScript.
--
(v1.0.2)
Fixed to save contents when using advanced editor.
(v1.0.3)
Fixed to properly save the timestamp of auto-saving.


MD5:
3fbe7223a0452ab5efa0ddd198d47df8
This plugin manage Banner link.
Autotags Support: [banner:] [randombanner:] [bannercategory:]
Auther: hiroron

MD5:
813cbee769c9a9af03569f6937c92a90
MD5:
f7cdae6a6c3d7e53f77cebae4de44d6b
DokuWiki (2008-05-05) is a standards compliant, simple to use Wiki, mainly aimed at creating documentation of any kind with your Geeklog v1.4.1+. It is targeted at developer teams, workgroups and small companies. It has a simple but powerful syntax which makes sure the datafiles remain readable outside the Wiki and eases the creation of structured texts. All data is stored in plain text files – no database is required.
--
Version 1.5.2.1 : Default theme and geeklog theme
Version 1.5.2 : Original release
--
Author: Mark R. Evans
Last update for Geeklog by ::Ben February 17, 2008

MD5:
e732d9b3c9949d2dd9e45a295434d854