Welcome to Geeklog Monday, July 23 2018 @ 01:18 pm EDT
Downloads
File Listing: 168 files

MD5:
0a2c9c9bca45c73c190854f258c7b163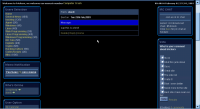 MD5:
9e84c6c51fb240dd463bd455255370e0
this is a great memo system for gl .. it works great
this is good for users who has not gottom the gl_forum or/and would love to talk insecret to others or send fast notifications

MD5:
7ab1fa03301642382175a621adb9d9ab
A plugin for managing things to do. Items (TTDs) are topic dependant, and fully respect the Geeklog security model. TTDs are shown in a centerblock if desired, either on the homepage and in topics, or in topics alone.
MD5:
fa5e3935e65c2a0c9485788795e53eb8
The PayPal plugin allows you to have an online product list and accept payment via PayPal.
--
Paypal plugin 1.1 what's new
--
* Added public folder setting
* Purchase history for users is now available
* Paypal errors are now log
* Added dynamic images for the link checkout with paypal
* Added css files to style the shop and the cart
* Added jquery feature for ajax
* An ajax Cart is now include
* A block with a cart view is also available
* Images uploader
* Support jquery lightbox (need jquery plugin)
* Online config

This is, hopefully, the last RC.
Included bug fixes and suggestions from true believers ;-)