Welcome to Geeklog Tuesday, July 17 2018 @ 03:33 pm EDT
Downloads
File Listing: 168 files

MD5:
ac89ed18309acb199179820063eef631

MD5:
813cbee769c9a9af03569f6937c92a90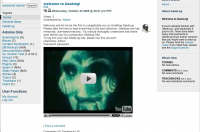 MD5:
306ef3e6a8d97490daade8621200a35d
This plugin just adds a YouTube autotag to your 1.4 or higher geeklog sites. example of use: [youtube:youryoutubefileid]

MD5:
5dd1793c75f86582d7f088d4b86d2f2c

This is another release for my staticpages plugin hack. This version corrects a problem that some users experienced, in which backslahes were being appened to their code. This version appears to work for all users, however, please make sure you backup your code before using it. Extra slashes in existing pages will not be altered, but any new pages/modifications should work properly. Additionally, the plugin config file has beeen altered to show the proper version.