Welcome to Geeklog, Anonymous Sunday, December 04 2022 @ 10:42 am EST
Downloads
File Listing: 90 files

MD5:
9b800624133b31a32a217dfc398bb5d9

MD5:
7646074a3503cf2b89da5637b12b1918

MD5:
5421d28e23eb47cfba01089adf74d521

MD5:
29ecf58361c4f1a66791cb252e87389d
Geeklog 1.6.0 now supports site migration, plugin uploads, offers improved search and comment functionality, and comes with a new plugin to generate XML sitemaps.
This is a complete tarball, to be used for fresh installs and upgrades from Geeklog 1.5.2 and all earlier versions.
md5 checksum: 29ecf58361c4f1a66791cb252e87389d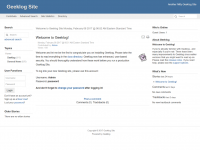 MD5:
cd7860d2c81983c729c4c3aeb05298e7
This is the third beta release of Geeklog v2.2.1. Please try it out on a non-production website and give us your feedback.
For more information on the new features, improvements and bug fixes in this version, please read the history text file found in the docs directory.
For live sites the recommended Geeklog version is v2.2.0.
Note: If you are upgrading an existing Geeklog site, make sure your 3rd party Geeklog plugins are updated to the latest versions. If you are unsure if a plugin supports Geeklog v2.2.1 then either disable it before the install, or uninstall it.
If you find any bugs in this release, please report them here.