Welcome to Geeklog Thursday, July 19 2018 @ 05:36 am EDT
Downloads
File Listing: 100 files

MD5:
8431c15c540da80cd8b168d871feb0a3

MD5:
319c08df343f3eecd65cd7024ee46641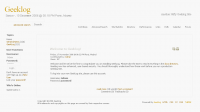 MD5:
001615760732fb6b9b0a76c75384b632
A new theme from www.geeklog.fr for Geeklog 1.4.1 and forum 2.6.
You can see it in action on www.batniji.org. This is an update version for a best experienced in Mozilla Firefox and IE 7.

MD5:
83e64d884afd5dd7752e4f21b809e478
Thanks to julianna for getting the ball rolling on updated this theme. I took the upload from Feb '06 and made more changes to have it work with geeklog 1.4. Here is the list of changes:
<ul>
<li>Fixed formating issues with Opera</li>
<li>Main menu is now dynamically created from config.php</li>
<li>Header code added for extra features and functionality (Plugins, rss, advanced editor, etc) </li>Advanced Editor now works, hopefully out of the box</li>
</ul>
MD5:
62dfd67700bbf64b5b0569a3bca46da1


MD5:
0837ae2eb64473f0988f8b2818f42848

The Smooth Blue theme has been updated for use with Geeklog 1.4.0
The updates were very basic. Mostly, the changes found at
http://www.geeklog.net/docs/theme.html#changes
were applied to Version 1.3.9 by copying the updates files from the Professional theme.
This is an update to Smooth Blue 1.4.0, which has an outdated admin/user/edituser.thtml file (you will not be able to create new users as an admin with 1.4.0).

MD5:
eec28268446fdce15d994448d2eae67f

The !White Pointer theme has been updated for use with Geeklog 1.4.0
The updates were very basic. Mostly, the changes found at
http://www.geeklog.net/docs/theme.html#changes
were applied to Version 1.3.9 (originally uploaded on March 17, 2004) by copying the updates files from the Professional theme. The "forum" folder was removed, and the height of the "tube" images (container-left-tube-bg.png, container-right-tube-bg.png, storybox-left-tube-bg.png and storybox-right-tube-bg.png) have been extended to 300 px so they won't repeat for longer stories and blocks