Welcome to Geeklog Monday, July 23 2018 @ 01:29 pm EDT
Downloads
File Listing: 100 files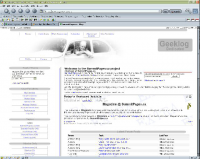 MD5:
3f01a436ebd902c0077ecea6d684e6bb
A clean and IMO professional looking theme.
Features: 2 column layout; separated plugin menu items from menu items; custom template files the section_block, admin_block, user_block, whats_related_block, and the story_options_block.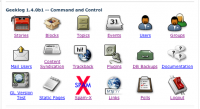 MD5:
75314f6bdcba90363c3787a520cb2b4b
Geeklog 1.4 comes with a new set of icons for "Command and Control" (admin/moderation.php). In the Professional theme, these icons are in PNG format with a white background. This archive contains the original PNG icons, most of which use alpha transparency. Theme authors can use these to create icons that better match their themes.

The Smooth Blue theme has been updated for use with Geeklog 1.4.0
The updates were very basic. Mostly, the changes found at
http://www.geeklog.net/docs/theme.html#changes
were applied to Version 1.3.9 by copying the updates files from the Professional theme.
This is an update to Smooth Blue 1.4.0, which has an outdated admin/user/edituser.thtml file (you will not be able to create new users as an admin with 1.4.0).
MD5:
62dfd67700bbf64b5b0569a3bca46da1

MD5:
319c08df343f3eecd65cd7024ee46641