Welcome to Geeklog Monday, January 22 2018 @ 04:44 pm EST
Downloads
File Listing: 719 files
MD5:
0643fe3d7d95c908aa2513c50d2d9cf6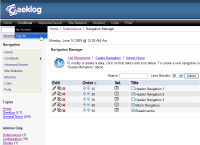 MD5:
e9e458aba9f472f6652e43731f892bdc

Category:
Geeklog

Old Versions
MD5:
cb5a213a12c8def51afbcf89519e049c
Geeklog 1.6.0sr2 is a security and bugfix update over 1.6.0sr1.
This is a complete tarball, to be used for fresh installs and upgrades from all pre-1.6.0 releases.
md5 checksum: cb5a213a12c8def51afbcf89519e049c

MD5:
4b522d742f03616eaca182a2ea3dd52d
This contains only the files needed to upgrade from Geeklog 1.6.0sr1. For fresh installs and upgrades from earlier versions, please download the complete Geeklog tarball instead.
md5 checksum: 4b522d742f03616eaca182a2ea3dd52d

MD5:
c3b67835347f139c0780b25d3a41b7b1
This is a drop-in replacement for FCKeditor as shipped with Geeklog, addressing the security issues that affect FCKeditor version 2.6.4 and earlier. This replacement should work with Geeklog 1.5.x (and 1.6.0 prior to rc2). It also seems to work with Geeklog 1.4.1. Other versions have not been tested ...