Welcome to Geeklog, Anonymous Friday, December 08 2023 @ 07:51 am EST
Downloads
File Listing: 763 files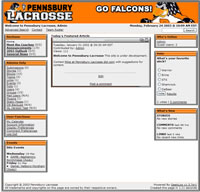 MD5:
202cc5855474c7e31be0790c7ee42329
Pennsbury Lacrosse Theme (Orange)
This version fixes a problem with storytext.thtml
Sorry folks - released this without checking the unfeatured story template... all better now.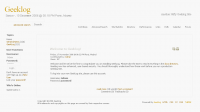 MD5:
001615760732fb6b9b0a76c75384b632
A new theme from www.geeklog.fr for Geeklog 1.4.1 and forum 2.6.
You can see it in action on www.batniji.org. This is an update version for a best experienced in Mozilla Firefox and IE 7.
MD5:
4eb9731bb0be500096e052d47a9bbadc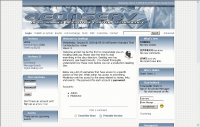 MD5:
fe0b3e300971757593d1d23e4c825752
Here is the most anticipated theme ever created for the Geeklog system. Major thanks goes to the men behind Geeksta.com and Squatty.com. This theme is based on original work of Aeonserv.com and is made for your enjoyment. Please, if you have any comments, compliments or complaints, be the wiser and let me know :)

The !White Pointer theme has been updated for use with Geeklog 1.4.0
The updates were very basic. Mostly, the changes found at
http://www.geeklog.net/docs/theme.html#changes
were applied to Version 1.3.9 (originally uploaded on March 17, 2004) by copying the updates files from the Professional theme. The "forum" folder was removed, and the height of the "tube" images (container-left-tube-bg.png, container-right-tube-bg.png, storybox-left-tube-bg.png and storybox-right-tube-bg.png) have been extended to 300 px so they won't repeat for longer stories and blocks