Welcome to Geeklog, Anonymous Saturday, December 09 2023 @ 01:17 pm EST
Downloads
File Listing: 763 files

MD5:
f8c7dba4d3e8aca6cb793da6e97c0ba7

MD5:
de69f223f36688c118b45331af9a62e4

MD5:
eaa24d40ad5abdf0e831b57f57479b11

MD5:
690f0da7bd29a3de5619a5a0b841a75f

MD5:
4c23737d156033318f07c066e973a1f3

MD5:
d4a580304d51f94dfdf3ce097b2721d4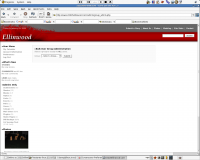 MD5:
8431c15c540da80cd8b168d871feb0a3

MD5:
e7f67fd64db27876e3264ba66c14832d
PHP was created so people could create websites by mixing code right in the HTML. When designers decided that mixing business logic with presentation was a bad thing, rather than using disciplined coding techniques to avoid that pitfall, the template library was born. So, an interpreted language designed to create HTML was being used to interpret template files to make HTML.

MD5:
57eeaa591b1a5626aefd2fc559c85dda
This is a wonderful little script that allows you to create a store at CafePress.com and have it displayed within your GeekLog installation with ease.