Welcome to Geeklog Thursday, July 02 2020 @ 03:24 am EDT
Downloads
File Listing: 749 files

MD5:
3f45c010533117df1929ea053ba4e469
MD5:
1e81512212a52c769af10087184b3754

MD5:
f35e292d0fd1eef3a5510b84540b76ea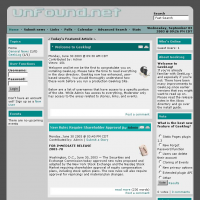 MD5:
bceece0dd1465a62a3249be037e1f6d6

MD5:
3aa21484101caeb51e774e3abe0612c5
This is a Unicode (UTF-8) character set. It allows Geeklog user to switch between English and other Unicode (UTF-8) translations, especially Asian language translations, without losing the readability of the existing stories.

MD5:
15ad1518b806a9e34edb4a9e93c8a918
Enhances siteindex "drop-in" that indexs all stories, comments, polls, static pages, links, events, and files within a GeekLog site for easy access by search engine robots. Just drop all files in your /public_html directory and link to siteindex.php from anywhere on your site.
Note that Static Pages 1.2 and the Filemgmt plugin are required for the siteindex to work.

GeekLog lacks a language selection feature for anonymous users. This patch adds a new value 'language' for $_CONF['menu_elements'] which displays a drop-down combobox with a list of available languages, which is available only for non-registered users (registered users can change the language in their settings).

MD5:
8f4e73e7eec05d593f7110684d9cda86


A calendar solution for Geeklog that foregoes the bulky calendar. evList is an event list plugin for Geeklog 1.4.1. evList supports recurring events, categories, and more. New to this version is event reminders.
If upgrading please read the upgrade.txt file.