Welcome to Geeklog Wednesday, January 27 2021 @ 10:23 pm EST
Downloads
File Listing: 749 files

Category:
Add-ons

Translations
MD5:
6cae7d45d71436b988fcca604db3c37c

MD5:
53c89b3d4664bbb9a753f9e703ca9a0c

MD5:
e0821795799226b7cab98e5e89a1fea4
This plugin allows you to backup/restore Geeklog database WITHOUT using mysqldump(.exe).

MD5:
d9a5773a64323d290079415aadd8a75a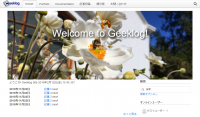 MD5:
01c42438e785400d037f7e13f1e0e8c1
The most simple theme using UIkit based on Denim.
requre no hack.
including all of core plugins using UIkit.

MD5:
e5f8a4f9089ddd30344074001d339d62
Currently only root users can remove comments on a site. This mod gives an admin the capability to grant others the same permission through the addition of two new rights: story.comment and poll.comment. The former will allow a non-root user to delete comments under a story while the latter one will allow him/her to remove comments under a poll. These two new permissions are automatically added to story admin and poll admin, respectively. The site admin can also give others permission by creating his/her own unique group and then assigning one or both of these new rights.
MD5:
6f3b3688d3ab3ead517a29f0b38535f8
MD5:
5ed50ee882b08dad81f9a3b18563923b

MD5:
c937d1f505f87b9a655fcd079b9a442e
DokuWiki is a standards compliant, simple to use Wiki, mainly aimed at creating documentation of any kind. It is targeted at developer teams, workgroups and small companies. The DokuWiki Integration Plugin for Geeklog provides an integration with your Geeklog v1.4.1+ website.