Welcome to Geeklog, Anonymous Monday, March 20 2023 @ 09:00 pm EDT
Downloads
File Listing: 763 files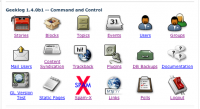 MD5:
75314f6bdcba90363c3787a520cb2b4b
Geeklog 1.4 comes with a new set of icons for "Command and Control" (admin/moderation.php). In the Professional theme, these icons are in PNG format with a white background. This archive contains the original PNG icons, most of which use alpha transparency. Theme authors can use these to create icons that better match their themes.

MD5:
05a28f8b6140637012790ca440b7b3c8

MD5:
b8e1fe192a76e9a1987ccbc70740e3f5
This archive contains a more complete version of Geeklog Ukrainian translation than that of lokki; in fact, it was done half a year ago, shame on me I forgot to upload it. I think that coming to next version, efforts of us both have to be merged to produce the best result.

MD5:
0bf7b95d3eefa41da9116995440bf7cb

MD5:
43d2e584670a7e018b968651a7ac237b

MD5:
ac89ed18309acb199179820063eef631

MD5:
4d6f19c6e1eaa563c32598ee47df6f04
Geeklog 1.4.0 works with register_globals = off, includes a WYSIWYG editor, supports remote authentication, trackbacks, pingbacks, and pings, and much more.
This is a complete tarball, to be used for fresh installs and updates from Geeklog 1.3.11 and earlier versions.
md5 checksum: 4d6f19c6e1eaa563c32598ee47df6f04

MD5:
934d5f2add2a1c12e2dd429f0317606d

The Smooth Blue theme has been updated for use with Geeklog 1.4.0
The updates were very basic. Mostly, the changes found at
http://www.geeklog.net/docs/theme.html#changes
were applied to Version 1.3.9 by copying the updates files from the Professional theme.
This is an update to Smooth Blue 1.4.0, which has an outdated admin/user/edituser.thtml file (you will not be able to create new users as an admin with 1.4.0).

Category:
Geeklog

AptitudeCMS
MD5:
10f48d802ba8aa6e4871019cdda6976c