Welcome to Geeklog, Anonymous Sunday, December 03 2023 @ 06:18 pm EST
Downloads
File Listing: 763 files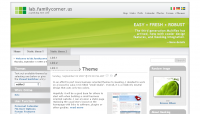 MD5:
4ec8eb51028672d3d7957f52c0726f23

The Smooth Blue theme has been updated for use with Geeklog 1.4.0
The updates were very basic. Mostly, the changes found at
http://www.geeklog.net/docs/theme.html#changes
were applied to Version 1.3.9 by copying the updates files from the Professional theme.
This is an update to Smooth Blue 1.4.0, which has an outdated admin/user/edituser.thtml file (you will not be able to create new users as an admin with 1.4.0).

MD5:
dad2e10c2fb4de23ce8bd362d263521c
This is the second Release Candidate for Geeklog 1.3.10 (still NOT the finished product). You are encouraged to try it out, but for the time being, Geeklog 1.3.9sr2 may still be the safer option ...

MD5:
47224cf8cc2bcf00ac0798f584ba0605
Geeklog 1.5.2 is a maintenance release for the 1.5.x series.
This is a complete tarball, to be used for fresh installs as well as upgrades from Geeklog 1.5.1 and earlier versions.
md5 checksum: 47224cf8cc2bcf00ac0798f584ba0605
MD5:
4eb9731bb0be500096e052d47a9bbadc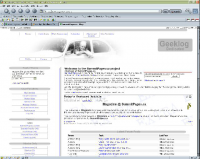 MD5:
3f01a436ebd902c0077ecea6d684e6bb
A clean and IMO professional looking theme.
Features: 2 column layout; separated plugin menu items from menu items; custom template files the section_block, admin_block, user_block, whats_related_block, and the story_options_block.

MD5:
9066336a2ed9feeb71c19a7973201cf9
Geeklog 1.8.2
This is a maintenance release and recommended upgrade for users of Geeklog 1.8.1. Complete tarball for fresh installs as well as upgrades from any older Geeklog version.
md5 checksum: 9066336a2ed9feeb71c19a7973201cf9

MD5:
91d1b2de01c34ae1daf9b1c6832dbd00
Visitor Statistics Program

MD5:
2d8a3031653b2c5023cf118b957fe4dd
This is a re-release of a Geeklog 1.1 plugin that now works with Geeklog 1.3.7. This has a lot of work left before it is polished but it should work just fine for the most part. This is a beta so use with care.

MD5:
d78ef2d5f3f39a178edadb5806d6bab4
Matt Jones' Foundation theme (the first ever user-contributed Geeklog theme, btw).
This is an "unofficial" version, upgraded to work with Geeklog 1.3.9.