Welcome to Geeklog, Anonymous Thursday, November 30 2023 @ 06:54 am EST
Downloads
File Listing: 763 files

MD5:
9bbae599b2e67b5d6d744279ea54612a

MD5:
858054c15cc1b9303dd46608138a617a

This is a hack to the calendar system which allows an event admin to choose groups, and have different calendar views to show events related to that group. It's almost like having multiple calendars, but it's not! This only works on the master calendar, not on the personal calendars.

MD5:
d4a580304d51f94dfdf3ce097b2721d4
MD5:
1fb596ee2401abc078390bc537d3de79
ClearBlue Theme, vaguely reminiscent of Apple's Aqua GUI.
Updated for Geeklog 1.3.8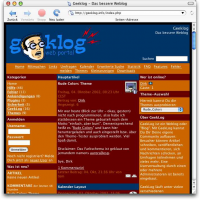 MD5:
df68c43a44f99c902c24e017470f0751
My second theme - it's simple, but it's colorful :-)
Updated for Geeklog 1.3.8

MD5:
9af0692d249d80b06c4cb459e1eb24d8

MD5:
92e3c020716566a4016096fc52d5f14e
Corrected typo's.
Introduced some new terms (fi portal insteadof site)
Translations added.
File is not completely tested yet.

MD5:
b6314b84ef8925f41591432cf14db3e9

MD5:
f56cc0865dd6ea0ecc73e386a1813895