Welcome to Geeklog Wednesday, June 20 2018 @ 07:03 am EDT
Downloads
File Listing: 730 files

MD5:
4c23737d156033318f07c066e973a1f3

MD5:
7eacd6bce16d5cff6546eff5b7a5f9f8

MD5:
a9023c1e63cdd0ca24f688b207f56b7b


MD5:
077fcd9b974582562ab928cf503b64a7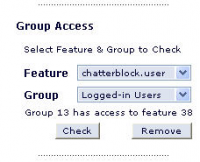 MD5:
cc195acf1213a12b84ea6b1afefff1c0

MD5:
79e8c432983e41beb3a2346a2801b3bd

The Topic Chameleon Hack will allow theme changing when accessing different topics, individual stories under a topic, or comments tied to a story. Visitors personal theme choices are overridden anytime they enter the themed topic or its associated stories or comments. The theme reverts back to the system default or user selection when the visitor goes to another section of the site.

MD5:
1f02f3740f741075ec45f4579b5798a8
This is a light and clean colored theme/look. It's kinda of a light purple and grey. check it out at
http://www.php2tor.com
to see what it looks like.

MD5:
28548bfdac41390bb9d09c9920c6f92b
this is a corrected french translation from the original file provided with  Geeklog 1.3.7sr1.
I corrected mainly errors in fonts (accents) and a lot of spelling errors.
You can check the result on my glsite at
http://www.tramasure.ch