Welcome to Geeklog Sunday, October 24 2021 @ 02:36 am EDT
Downloads
File Listing: 749 files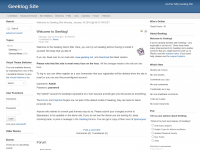 MD5:
9ef33d69a01008b7cf343e525a9fbc4b
Geeklog 2.1.1 is the recommended version for all users of Geeklog. For upgrades please make sure any plugins you are using are compatible with Geeklog 2.1.0 or higher. This is a complete tarball for fresh installs as well as upgrades from any older Geeklog version.

Category:
Geeklog

Old Versions
MD5:
7646074a3503cf2b89da5637b12b1918

MD5:
6f57dec06a3760ec36a2dd87755f4b31
The Geeklog Usage Stats [GUS] plugin collects statistics on who visits your site, what browser and operating system they are using, which pages they view, and which links they are clicking to get there. The minimum Geeklog version required is now v2.1.0.

MD5:
17c722d11dd130d0e53fabdac139f2e6

MD5:
bc8d08ee65a4ed2440433d35beae40b3

Category:
Geeklog

Old Versions
MD5:
d08bfe2e0544244880f91821c82357ba
This is the first beta release of Geeklog 2.1.1. Please try it out and give us your feedback. For live sites the recommended Geeklog version is 2.1.0.
md5 checksum: d08bfe2e0544244880f91821c82357ba

MD5:
8348b4b1172a3873e26fc0e08258e4f1

MD5:
ea5bdf69c0f8df6d812eb1a94f7da06e

MD5:
1a3bab383c37700c9d4805da5d7c1d6e