Welcome to Geeklog, Anonymous Wednesday, November 29 2023 @ 02:47 am EST
Downloads
File Listing: 763 files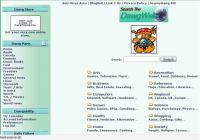 MD5:
85fc3fb53815e9eab5b68c4952327a9c

MD5:
4c03f2f4eb2c016eeb0b7b03bda274df
This code shows an overview of all topics that the current user is supposed to see, together with the icon of the topic and a link to the topics storylist. The code is derived from functions in lib_common.php.
Version 2.2 Additions:
Now the static page is better suited for menus.
- added dimension setting for icons so you can shring them!
- optional text and optional text placement (below & left)
- font-size option
Paste this code without the <? ?> into a static page and set it to encode PHP, SET IT TO RETURN TYPE
Read the instructions
MD5:
0547722e01371824b172417884f30e1f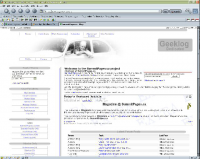 MD5:
3f01a436ebd902c0077ecea6d684e6bb
A clean and IMO professional looking theme.
Features: 2 column layout; separated plugin menu items from menu items; custom template files the section_block, admin_block, user_block, whats_related_block, and the story_options_block.

MD5:
dbbf4e54e1633d71d3da07c4d784744d