Welcome to Geeklog Friday, September 20 2019 @ 12:15 pm EDT
Downloads
File Listing: 732 files

MD5:
24ccc63a1f79038b61dbe7b10a7afa22
MD5:
1fb596ee2401abc078390bc537d3de79
ClearBlue Theme, vaguely reminiscent of Apple's Aqua GUI.
Updated for Geeklog 1.3.8

The Smooth Blue theme has been updated for use with Geeklog 1.4.0
The updates were very basic. Mostly, the changes found at
http://www.geeklog.net/docs/theme.html#changes
were applied to Version 1.3.9 by copying the updates files from the Professional theme.
This is an update to Smooth Blue 1.4.0, which has an outdated admin/user/edituser.thtml file (you will not be able to create new users as an admin with 1.4.0).

Category:
Geeklog

Old Versions
MD5:
dad2e10c2fb4de23ce8bd362d263521c
This is the second Release Candidate for Geeklog 1.3.10 (still NOT the finished product). You are encouraged to try it out, but for the time being, Geeklog 1.3.9sr2 may still be the safer option ...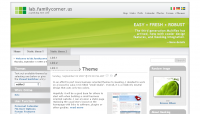 MD5:
4ec8eb51028672d3d7957f52c0726f23